October 27, 2021
I added a new speed tester to the Attitude 2.0 app page.  Called Fast, it is powered by Netflix.  It transfers 'video' content, not just standard 'text' content, like most others.  This is why there may be a discrepancy with other Speedtests systems.  If your ISP is throttling you, Fast.com will show a more accurate picture.
This link will help as well, https://thetechieguy.com/why-do-internet-speed-test-results-differ-and-how-reliable-are-they/
David
June 15 2021
It is my pleasure to introduce 'ATTITUDE 2.0'.  It will; work on any Android version (unlike its predecessor) and is now 100% working and ready to go.  Attitude 2.0 will forever change the way that android launchers will be measured.  Not only does it launch an app like the predecessor, but it also allows you to launch any other (installed app) from one convenient place.
But wait, there's more!
Attitude 2.0 now has movies built-in.  That's right, over 2500 of them.  Not only does Attitude 2.0 play movies like other apps, but the built-in media player is very powerful and extremely fast.
But wait, there is even more!
Attitude 2.0 now offers free live TV too, 48 channels to be exact.  It cannot compare to TweedIPTV but with apps like MOBDRO no longer working, this will fill that gap.  Channels like CBC-News; CBC-Toronto; The Bob Ross channel and the Family Feud channel to name a few.
To pay for the rights for Attitude 2.0 (live TV streams; movies and web hosting), I pay $550 per year.  The original Attitude cost $200 US per year.  Attitude 2.0 cost me more, but I'm sure you will find great value.  With that said, I will not be renewing the license for the original Attitude and I will not be updating the original Attitude menu any longer.  I expect that it will go quietly into the night.
I am still working on some of the support documents and the website but it's ready to go.
If you would like the new 'Attitude 2.0' (and I hope you do), I charge $30 per box.
To have Attitude 2.0. installed on your box, contact me to set up an appointment
David
613-4789-1964
June 11 2021
WOW!  With great excitement Attitude 2.0 is almost ready to go.  It has more options than ever thought possible.  It not only launches apps like before but now has movies built-in and live TV as well. The live TV streams can't compete with TweedIPTV but with apps like Mobdro no longer working, Attitude 20 may suit your needs.
March  9 2021
I'm sure most of you can tell. Attitude is working again!
March 6 2021
I just got good news, the developer got back to me today.  Apparently, their domain host went down and this is why the issues.  Computers eh, when they work, they're great, but when they don't work as expected, well...
The developer said everything should've back to normal on Monday.  In the meantime, you can load the apps outside of Attitude.
David
March 5 2021
Well, it looks like the developer of Attitude is gone for good.  Their website is gone, they have not responded to any of my emails, and the back-end of Attitude (where I had control of Attitude) is now gone too.
So I am in the process of creating 'Attitude 2.0', unfortunately, I have no ETA yet (a lot of work ahead of me).
In the meantime hi, you can still use the individual apps outside of Attitude
David
March 5 2021
There seems to be an issue with Attitude, it keeps saying 'no internet connection detected'.   This is an Attitude issue only.  The apps still work as normal.  I am in the prosses of contacting the developer to get it fixed ASAP.
I'll let you know when it gets resolved.  In the meantime, just load the apps with-out going threw Attitude.
David
Feb 2021
Looks like Mobdro is gone.  People were using it for free IPTV but it seems like the only thing you can get with Mobdro now are YouTube videos.  You never know, they might come back to life.
Nov 16,2020
I have just been informed by the developer that the new version of Attitude is almost ready to go!  The new version will work on the newer Android versions.
Since this is a whole new version, the older one may stop working at any time.  When this happens, you will need to install it.
If you bought a box from me within the last 6 months, I will re-program your box for free otherwise the cost is $30/box.
If you wish to program your own box, a link to the app will be provided.
David
Nov 5, 2020
Hi all!  Attitude is back up and running for those that have Android 7.1 and lower.  For those that have a newer version, I was told that a new version of Attitude will be released in mid-November.
Keep checking here for the release date.
David
10.20.2020
Well, it finally happened.
Without any warning, the developer of Attitude went out of business.  As of Friday, October 16, 2020, your screen may look like this,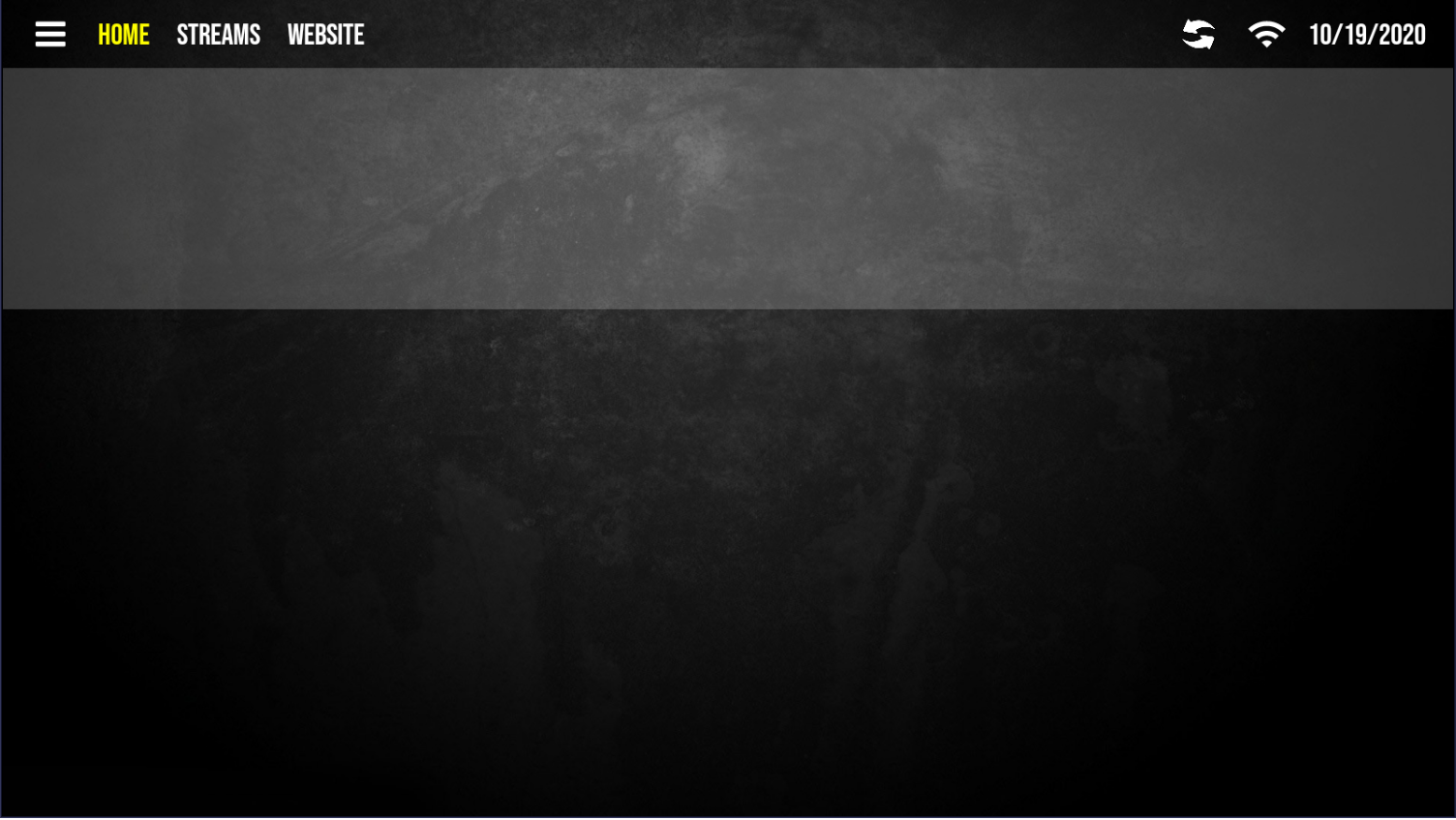 The apps installed onto your box are NOT affected, ONLY Attitude was affected.
If your box runs Attitude as the default launcher, hold the Home button down on the remote and pick another launcher (other than Attitude) from the list and choose  'always'.
If no options open after holding the home button down, just click to the left to see the installed apps.
If you're comfortable with Android, you can find the Home option under the Android settings.
A new launcher can be downloaded from the Google Play Store for free.  The easiest to use is the 'ATV Launcher'.  It configures itself.
I am truly sorry for any inconvenience this has caused.
David
Attitude is slowly being phased out.
The developer of the Attitude app has decided not to update the app, so I will not renew the licencing for that app (a $200/year fee).
If you are an Attitude user, please download all the apps on the main menu for the license can end at any time.
I have not informed the developer of my intentions, so he may just keep Attitude alive.
All new boxes (if programed by me) will have over 50 apps that you can add to using Aptoid of the Google Play Store.
Depending on the Android vs the new launcher will start automatically, if not, just press the Home button on the remote.
The default launcher I used is called the 'TV Launcher' however the 'ATV Launcher' has also been configured for use.  'Nova Launcher' has also been included (but not configured.
A couple of my favourites are Cinema and Tea TV.  Click the icon to start the app.  If an app asks for access to parts of the box (i.e. camera or files), click allow.
If any app asks for access to any part of the Android box, always click allow or the app will not work properly.
If an app informs you that there is an update, accept the update and follow the on-screen prompts.  To learn how to use an app, head on over to YouTube and search for "How to use APPNAME".
I have no control over the content in any app.
After you install Kodi, you need to install a build.  My build, called 'Ultimate Canadian' which is free, and the install instructions are on my website. 
If Netflix asks you to update, chose 'Cancel'.  Netflix says they will not support Android boxes, the Netflix app is the only version that will run on an Android box.
The app 'Super Retro 16' is, as the name says 'Super'.  It turns your box into a Super Nintendo Entertainment System allowing you to play any game Nintendo released for the SNES, for free.  The games are free but some of the features of this app are turned off.  To turn these features on, the developer is asking for $1.29.  Click on the store in the app to purchase.  I do not get any compensation from any app. 
For live TV, you can use Mobdro.  Mobdro gives you about 70 channels of Live TV.  Mobdro was designed for a phone so there are no HD channels, also it has popup ads often but hay, it's free.  Your best option for live TV is TweedIPTV which has ALMOST 1600 English channels including all the sports channels.  There are even 240 4K channels.  Not to mention channels from around the world (on request).  Almost all of the channels are in glorious HD too (if not in 4K). All this and more, for $22/month or less.   STB Emu (the icon is a TV with a star on it) is used with TweedIPTV.
David